My daughter's have been practically begging me to get their bedroom decorated since we moved in 3 months ago. I am finally getting around to it and they are excited to be getting it done. They've had their hearts set on a unicorn theme. I'll be sharing several projects in this theme over the next few weeks! I hope you like pastels and glitter!
This post contains affiliate links, and I will be compensated if you purchase something when you click on my links.
This extra long pom-pom garland spans the length of three of the bedroom walls! The garland is just a long strand of yarn with pom-poms (in unicorn colors) tied to it.
I'll show you how to easily make dozens of pom-poms using a pom-pom maker. The garland itself is pretty self explanatory, so I won't go into too much detail about how to put it together.
The girls picked these baby pink, purple metallic, and blue metallic yarns. It took two skeins of the blue yarn for the largest pom-pom.
I used the Yarnology pom pom maker from Hobby Lobby for this project. If you've never used a pom pom maker, the instructions that come with this one don't make it easy, but hopefully my pictures will help a little. I'll admit, I had to go to YouTube for help myself!
1.Once you decide which size to use, open the tool using the little latch on one end. Stack the 2 pieces together so that the white cap on the hinged part is facing outward.
2. Hold the two pieces together at the center while holding the end of the yarn.
3. Wrap the yarn in one direction to desired thickness. The thicker you wrap, the fluffier the pom-pom.
4. Bringing the yarn back towards the center, flip the tool and continue wrapping on the other side.
5. Close the tool with both latches.
6. Cut the yarn around the entire circle using the center opening as a guide.
7. Cut a piece of yarn, long enough to go around the circle, and tie tightly in the cut space.
8. Pull off each side of the tool to remove the pom-pom.
9. Use the long strands to hang or tie wherever you like!
If that wasn't simple enough, watch this video!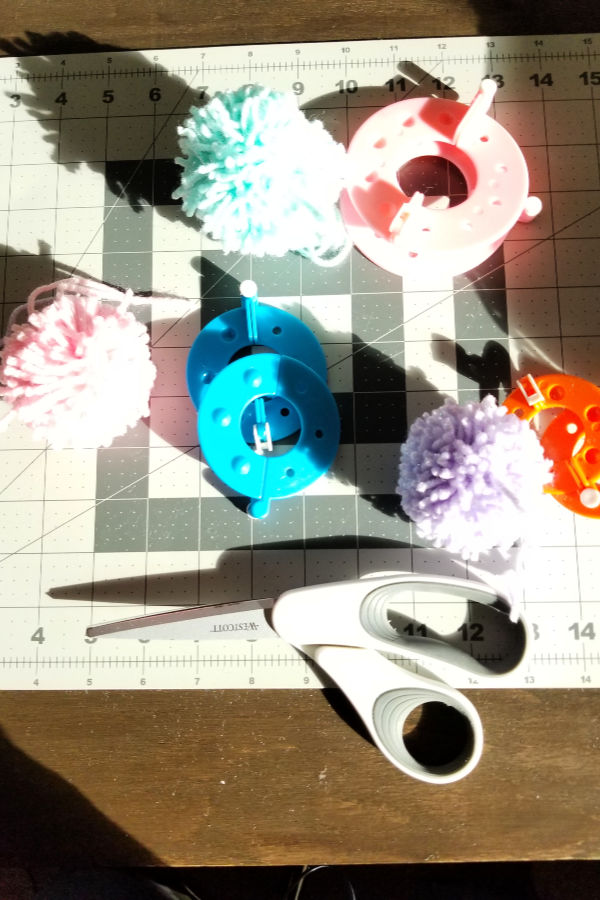 I used the 3 larger sizes…
and made just under 60 pom poms!
Getting the garland on the wall was a chore! Yarn does not play nice when you add weight to it! I found that using masking tape helped to hold each section in place while I tied on the pom-poms. The best part of this garland is that you can't see the nails holding it up!
Don't forget to save and share!