I don't know about you, but I'm always intimidated by all the red and pink Valentine's decorations when this season comes around! If you're like me and you like neutral colors, but you still like to decorate for different seasons, then these 5 Valentine's crafts are for you!
Each of these pieces is super budget friendly. I only spent a total of $12 for the supplies I bought, which include: the heart wreath form, burlap ribbon, hanging mug chalkboards, love sign, and chalkboard heart. Everything else I had on hand.
This post contains affiliate links, and I will be compensated if you purchase something when you click on my links.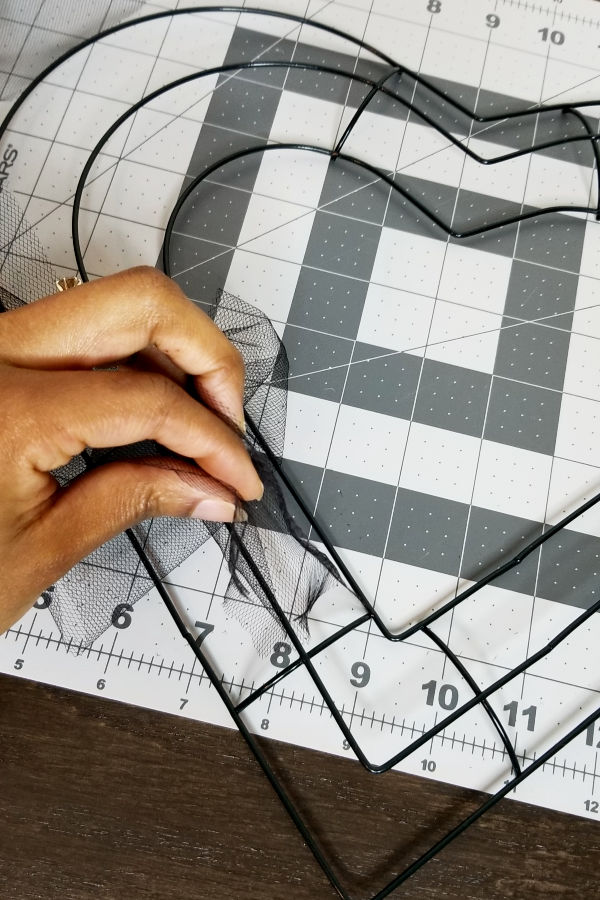 * Create ruffles by folding tulle in half and pulling through on either side of the center wire of the wreath form
*Continue feeding the tulle through and bunching together around the entire wreath
*Use 2 packs (3 each) of these hanging chalkboards from Target dollar spot to create a banner using twine rope.
*(optional) add vinyl heart cutouts. I used dry erase vinyl so I could write on it.
*Use chalk paint and dry brush onto the wood love sign from Dollar Tree. If you can't find this there should be similar options at any craft store.
*(Optional) change out the twine rope on this Target dollar spot chalkboard for a longer one
*Add your phrase of choice using vinyl cutouts. I cut this using my cricut.

* Use your cricut (or other cutting machine) to cut heart shapes out of cardboard
*Cut the same sized hearts out of adhesive vinyl. I used a black glitter vinyl and white vinyl.
I used hot glue to attach these mini clothespins to the back of each heart
You could just glue the hearts to the twine, but I thought the extra weight would keep the banner from shifting when hung.
I just love how easy it is to take a plain décor piece from a dollar store and make a few changes to fit it into your home! You can probably tell that I have a black and white color scheme in my house, but of course you could still add these neutral pieces even if your home is loaded with color.